Looft Air Lighter 1 + Case
Start and stoke charcoal - easy, quick and clean with superheated air in 60 seconds. No toxic and hazardous chemicals needed. 
650°C
Lights in 60 seconds
All Electric
No refill needed
Eco-friendly
Lights all fuels such as charcoal, briquettes and logs
On/Off Switch
650°C Superheated air
3 m Power cord
Aluminum heat shield for quick cooling
Power: 1800W, 230V, 50Hz
Stand / Bottle opener
Looft Air Lighter 1
Operators Manual
Easy
With its user-friendly design, all you need to do is point and press the button to get a roaring fire in no time.
Quick
Ignite charcoal, briquettes or wood in seconds so you can save valuable time and enjoy grilling.
Clean
Avoid the mess of hazardous lighter fluid. Our Air Lighters ignites fires without residue, ensuring a clean and safe experience.
Features
See below for details on Air Lighter 1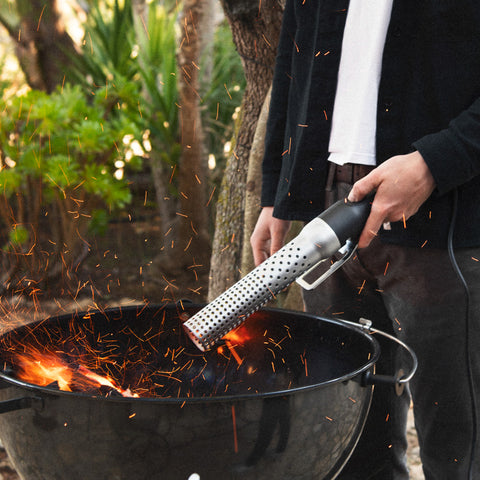 Grill
Weber kettle, Big Green Egg, Kamado Joe, smoker or pellet grill. Start any grill with a Looft Air Lighter 1.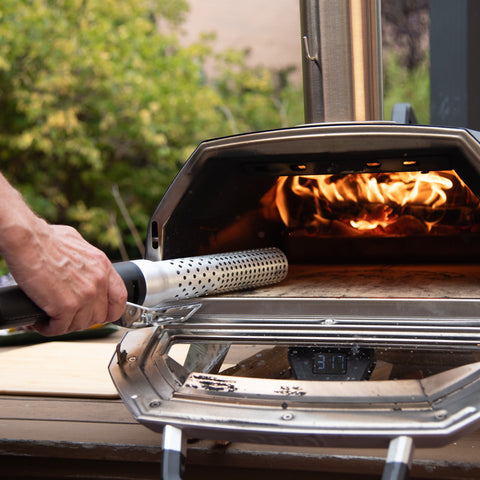 Pizza Oven
Light wood with the Air Lighter 1 electric fire starter. Perfect to bring your pizza oven to temperature.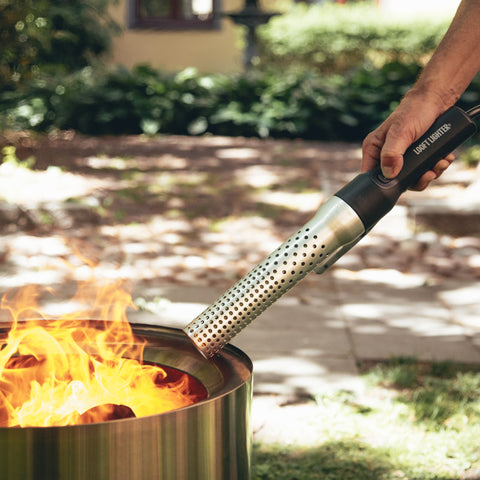 Firepit
Effortlessly start your firepit with the Looft Air Lighter 1.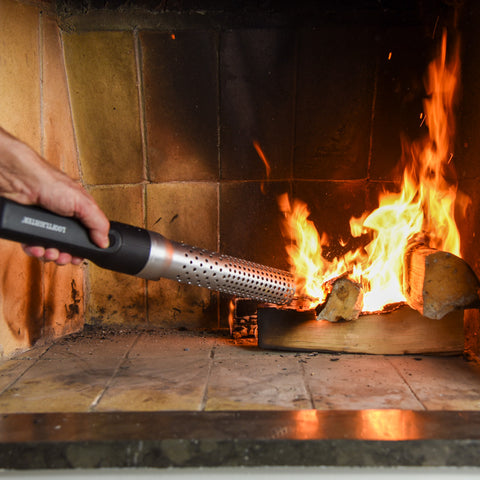 Fireplace
Looft Air Lighter 1 is perfect to start your fireplace as it can light wood logs instantly.
How to start a grill with Looft Air Lighter 1
1. Light It Up
Set up a pile of fuel you like, charcoal, woodchips or logs. Touch them with the tip of the Looft Lighter and press the button.
2. Pull Back A Bit
When sparks or a glow appears, pull back the Looft Lighter a few inches. Giving it space will help the heat to spread out and do its magic.
3. Hit The Spot
Keep your Looft Lighter aimed towards the same spot for around 60 seconds.
Read more
Find more Questions & Answers here.
Will a Looft Air Lighter work with any grill?
Yes, the Looft Air Lighter is compatible with all kinds of grills and barbecues, ensuring versatility in outdoor cooking.
Looft Air Lighter vs. Traditional Methods
It's faster and cleaner than traditional lighting methods, reducing wait times and chemical use. With a Looft Air Lighter you start your grill in 60 seconds and can get grilling in as fast as 5 minutes. This is compared to 25-30 minutes for lighter fluid, 15-25 minutes for charcoal chimney and 15 minutes for a gas grill.
How fast can I light a fire with Looft Air Lighter?
Looft Air Lighter can ignite a fire in about 60 seconds, providing a quick and convenient start for grills and barbecues.
Does Looft Air Lighter produce a flame?
No, Looft Air Lighter generates superheated air, not an open flame, offering a safe and efficient way to light grills and fires.
Efficiency, Speed, and Simplicity
The Looft Air Lighter ensures you get your fire blazing in no time. Traditional ignition methods involving lighter fluid, matches, or propane can be time-consuming and often problematic. Our electric firestarter takes a different approach, generating a super-hot airstream that can reach scorching temperatures of up to 1400°F (760°C) in a matter of seconds. This unparalleled rapid ignition capability is a game-changer, ensuring your fire is up and running at the speed of thought.
Eliminating Harmful Chemicals
One of our primary goals with the Looft Air Lighter was to eliminate the need for  harmful chemicals like lighter fluid or propane. These substances not only pose environmental concerns but can also compromise the quality and safety of your cooking or heating experience. With the Looft Air Lighter, you can kiss goodbye to these concerns. This device employs only hot air, ensuring that your grilling and fire-starting experiences remain pure, safe, and environmentally friendly.
Safety should always come first when dealing with fire. The Looft Air Lighter incorporates a range of built-in safety features, including a child-safety switch and a cooling-down function. These features have been meticulously designed to minimize the risk of accidents and ensure that you can enjoy your fire without any worries. We understand the importance of peace of mind when it comes to fire starting, and the Looft Air Lighter delivers on that promise.
The Looft Air Lighter isn't just another one-trick pony. It's a versatile tool that caters to the needs of outdoor enthusiasts, grill masters, and home comfort seekers alike. Whether you're camping under the stars, preparing for a bonfire with friends, or just looking to light up your charcoal grill or smoker, the Looft Air Lighter is your ultimate companion. Its ease of use and rapid ignition capabilities make it an all-in-one solution for all your fire-starting requirements.
At Looft, we stand by the principle of delivering products built to last. The Looft Air Lighter is no exception. Crafted from high-quality materials and engineered for resilience, it can withstand frequent use. This level of durability ensures that your investment will serve you for years to come, making the Looft Air Lighter a cost-effective choice in the long run.
An Environmentally Responsible Choice
The Looft Air Lighter stands out as an eco-conscious product. By reducing the need for disposable fuel sources and hazardous chemicals, it contributes to a cleaner, greener planet. We are committed to minimizing our carbon footprint and creating a more sustainable future, and the Looft Air Lighter is a testament to that commitment.
A support team that helps you out